Description

YOUSUNLONG
Professional manufacturer of kitchen knives
YOUSUNLONG has been a OEM manufacturer of kitchen knives to Deutsche and United States for more than 15 years.Since YOUSUNLONG registered brand "順",We are committed to providing users kitchen knives with elaborate craftsmanship and continuous pursuit of innovation in order to break the design and process constraints.
If you use our Kitchen knives you will like cooking and are willing to make delicious food to share with family and friends,our knives have become the choice of professional chef's and home chef's.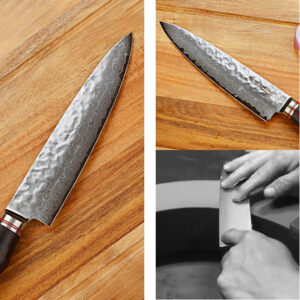 Sharp And Beautiful Blade
A great knife is made of high quality steel.The core of the blade is high-hardness VG-10 "Super Steel" with a hardness rating of 60±2 on the Rockwell Hardness Rating.An uniquedamascus pattern formation is 66 layers of different hardness stainless steel folded together–33 layers on either side.The blade is mirror polished with good reflectivity,the color of damascus pattern is affected by light.
Features And Advantages
15 HIGH FLAT GRIND,as a sharp razor,durable sharp

Mirror polished surface,easy to clean,keep clean for a long time

Exquisite blade pattern,Stand out from the multitude of knives

Uneven hammer pattern,reduce the chip resistance, non-stick food

Accurate heat treatment,increased strength,flexibility and hardness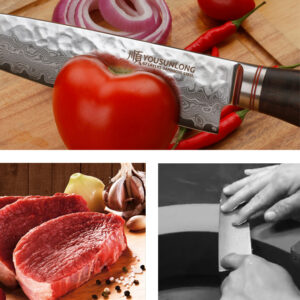 Natural Wood Handle
Balance is very important for a knife,the material of the handle is ebony which is healthier than the handle of chemical material. The texture of the handle is very natural and the texture of each knife is different.Balance is important for a knife,stainless steel and red G10 of the handle can increase weight,so that the knife has a good balance.
Features And Advantages
Healthy wood handle for life-long durability

Highly impervious to heat,cold

Ergonomic handle with excellent flexibility,comfort and balance

Non-slip grip

Seal of the "顺" for easy to distinguish